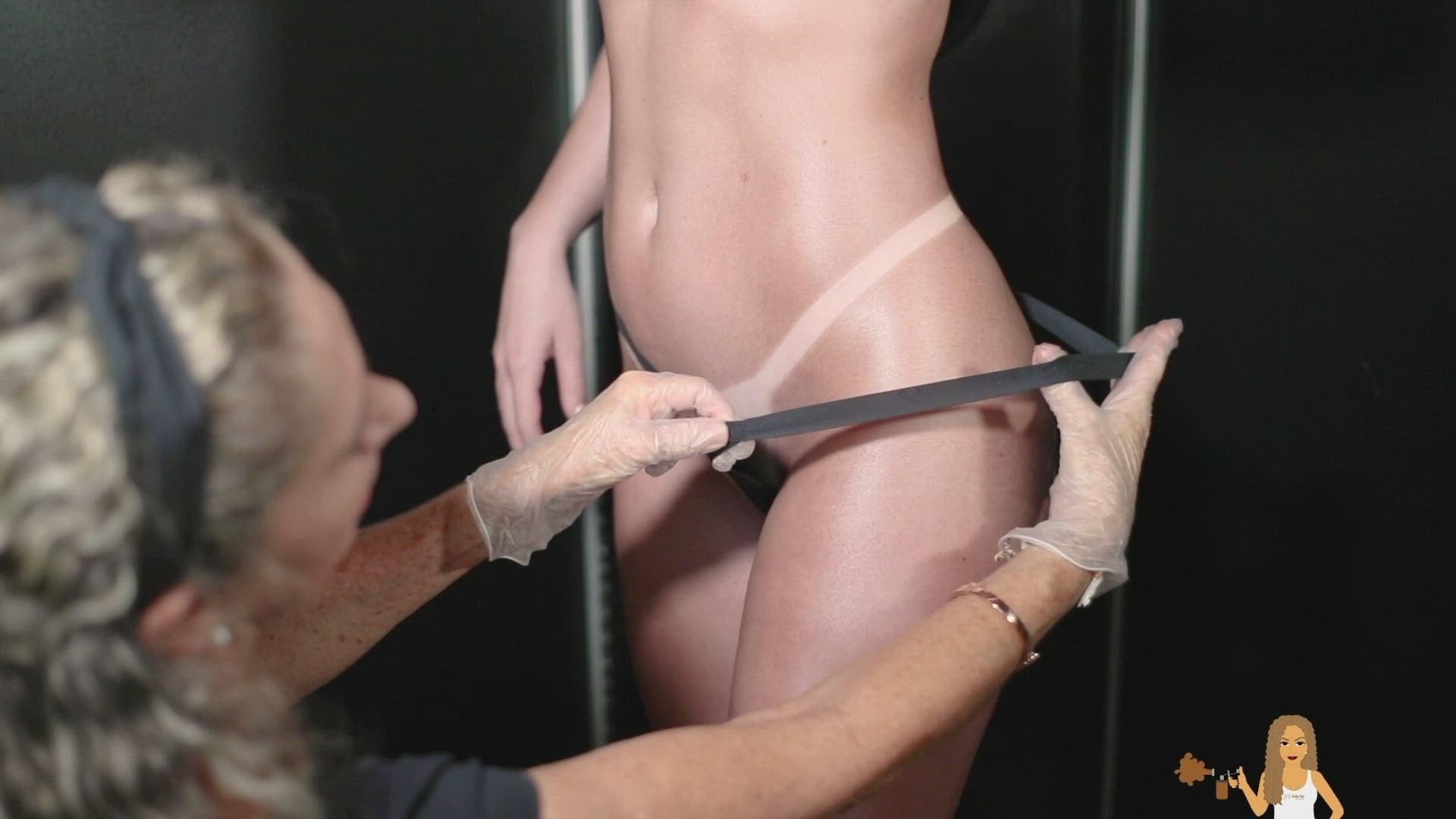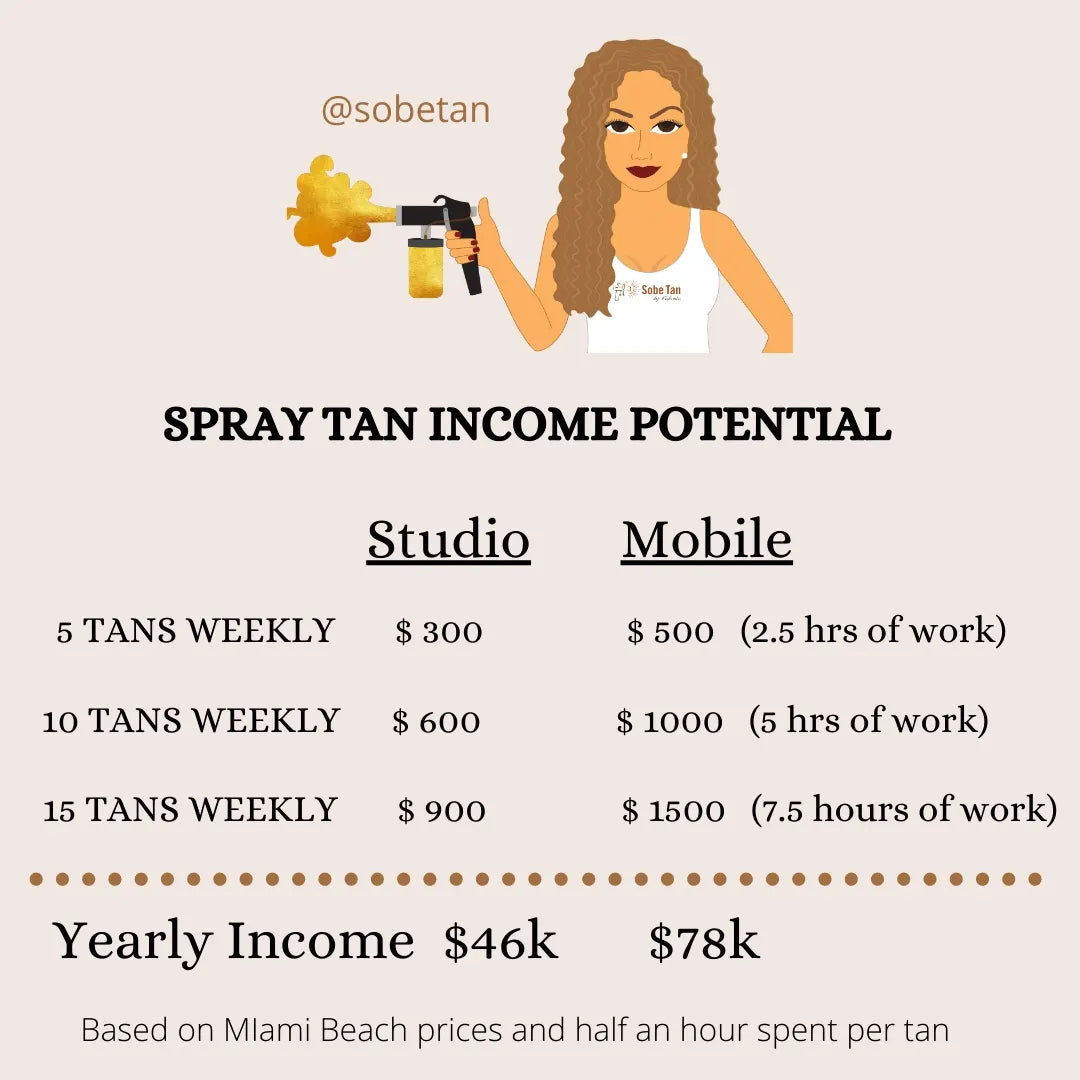 Our new and updated spray tan online class offers a customized professional course from Fabiola who has been in the sunless business since 2000, operating out of Miami beach. Fabiola has a background in beauty and wellness, studied for two years to be an aesthetician and massage therapist in Colombia, and did a few wellness courses in Spain for beauty. She is known for spraying celebrities like Kim Kardashian, Jlo, and Matt Damon, among many others. She understands the importance of customized training since every professional need is different. This course can also benefit people who have been in this industry for a while and would like to perfect their technique. This course offers a complete guide on which sunless products to use and their different usage on different skin types to contouring, muscle definition, and how to perfectly tan tricky areas like hands and feet.
This Online Master Class Includes The Following:
Unlimited access to our two online videos, that total 40 minutes, that instructs you how to spray an entire body with a detailed explanation of every body part from head to toe and how to spray it correctly. For example, we show how to spray problem areas like hands, feet, underarms, folds, and more. In addition, Fabiola offers practical applications of her favorite gadgets and how she uses them to improve her spray tan technique. The second video emphasizes contouring and how to use your HVLP (high-pressure, low-volume) gun correctly, with step-by-step instructions on perfecting this craft.
An hour Zoom video conference with a spray tan demo done LIVE so you can ask any questions along the way and emphasize the areas you need to improve on. We can talk about absolutely anything and everything to get you started in this profession. Before this video conference, we will touch bases to find out what you are looking for and your priorities and hopes for this class. A copy of this video conference will be sent to you after the session is concluded.
Digital access and a printed copy will be sent to you of our Mastering the Art of Spray Tanning e-book, 60 pages on how to perfect the spray tan. This guide includes all the information needed about self-tanners, how they work, tanner safety, client education on how to prepare the skin, how to maintain a tan for a longer time, perfection techniques, tools of the trade, what to look for when spraying a real person, equipment usage and troubleshooting, exhibits with specific poses for spray tanning, links for the best gadgets to deliver the best spray tan experience for your clients, resource lists, social platforms explained in detail, ingredients to look for in your products, access to community forums and so much more!
Personalized Diploma that states you have been trained by Sobe Tan by Fabiola.
Last and most importantly, unlimited access to Fabiola for everything you need while you are building your successful business. Having a mentor in the sunless industry is incredibly important, so you can successfully launch your own business and work either mobile, from your own home, rent a space inside a beauty salon, or even have your own location. 
Why Work With Fabiola?
We know that there are so many brands in the sunless industry and that it can be incredibly overwhelming to choose the best product and equipment for your clients and your necessities. This master class will help you stand out from the rest and successfully create your own technique.
Fabiola has worked with dozens of brands in the market and will guide you to pick the best ones. This class is a brand-neutral program, even though she has her favorites; recently, she launched her new #cleantanning line Sobe Tan Sunless which she developed herself with chemists specializing in green chemistry, with only six ingredients is the most natural spray tanning line in the market. She will guide you through the best ones in the market according to your likes & demographics of where you work, and prices that are good for your business.
This whole program has a price of $600 per person. This does not include equipment or product. Equipment prices are about $ 400 for an excellent mobile option, and a liter of the product will give you approximately 16 tans and will cost roughly $70. She will guide you on the best equipment and products for your necessities.
Here are some numbers for you to consider getting into this lucrative business. (Based on Miami Beach prices)
Disponible en Español.
Sale price

$600.00
Regular price
(/)
Online Spray Tan Training Class
Sale price

$600.00
Regular price
Choose options